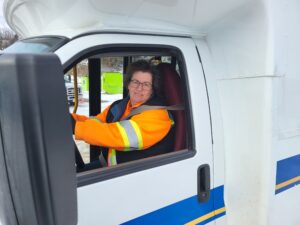 Name: Rhonda Phillips
Division: Transit Kitchener
Position: Driver
How long have you worked at Voyago? 7 Years
Who have been your role models? What do you admire about them? My Mom. She has survived heart issues, single parenthood while holding down a 44hr/wk. job, widowed twice, she's owned and ridden two brand new Harley Davidson Motorcycles, and she still smiles.
What world and national events have significantly impacted your life? Y2K – While the rest of the world was preparing for a technological mayhem, I was looking in the eyes of my miracle baby – 2nd last baby born in KW of the millennium.