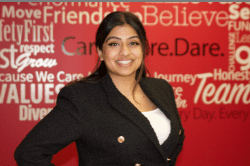 Name: Harman Atwal
Position: Operations Manager
Division: PTS GTA
How long have you worked at Voyago: 8 Years
What advice would you give for those looking to advance into leadership roles? I think the biggest piece of advice I can give is to focus on your happiness and well-being. Success will follow those who are happy and passionate about their work. This can be challenging for everyone but especially women. We often feel as we need to make a lot of sacrifices juggling home and work life balance. It is easy to get fixated on the notion of "success and career advancement" but always make sure to take time to take a step back and recognize what is a priority.
What qualities do you think embody a successful people-leader? The qualities of a successful people leader I feel consist of being approachable, facilitating open communication, encouraging employee growth and development, and giving/receiving feedback. A successful people leader is one who not only manages/ delegates tasks to completion or performance targets but one who helps the team around them grow and further develop their skills.
How do you lead through growth and change? To successfully lead through growth and change as leaders I think it is important to remember not to fixate on "what" needs to be changed but the "why" these changes are occurring. It is important to create a shared understanding behind the growth/changes needed and effectively communicate the purpose of the change. Any change or growth I find it helpful to link it back to our company values and explain the benefits created by these changes/ growth to help ensure success.